Dean's Student Advisory Council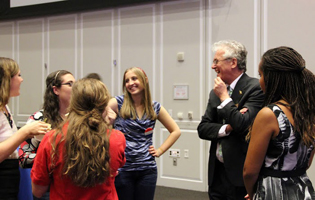 The Dean's Student Advisory Council (DSAC) was formed in the fall of 2002. This council is charged with advising the dean on various topics affecting students and their educational and social experiences at the University of Maryland. Each academic year, the group takes on the responsibility of allocating the College's portion of the approved student technology fee. DSAC was assigned the primary role of deciding where those fees would be best applied in the college. DSAC also led the charge in the formation and founding of the College's Ambassadors Program, which has proven to be a successful addition and support system for BSOS and its Advising Center.
DSAC is developing systems to help the College strengthen its sense of community, and is creating better relationships with each academic department in hopes of being able to better address the issues and concerns of students.
During the 2007-2008 academic year, DSAC held the first of its highly successful student-faculty dinners, which have become one of the College's most popular events, with more than 150 faculty, student and alumni guests. Other DSAC signature events and initiatives include support of Maryland Day, presidential election night programming and field trips to various Washington, D.C., points of interest.
DSAC consists of representatives from each department in the College of Behavioral & Social Sciences, the living/learning programs in the College, the Student Government Association, University Senate representatives for the college and a peer advisor.
Contact the Dean's Student Advisory Council: bsosdsac@umd.edu.
Visit the Dean's Student Advisory Council Blog Page: http://bsosundergrad.blogspot.com/