The College of Behavioral and Social Sciences and each of its departments and programs congratulate the Class of 2019 and welcome each member into our alumni community.
BSOS celebrated graduates and their friends and family members in special departmental ceremonies throughout campus on Thursday, May 23 and on Friday, May 24.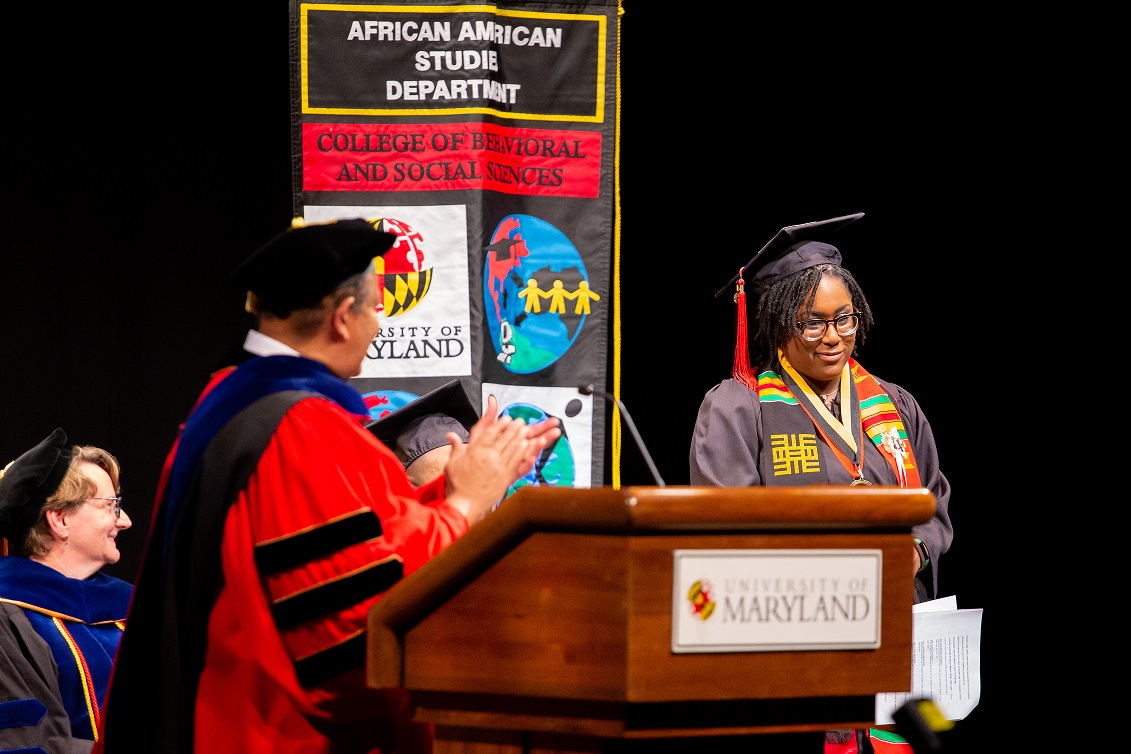 The Department of African American Studies and the Department of Anthropology jointly celebrated in the Clarice Smith Performing Arts Center on Thursday.
Student speaker Jasmine Braxton (pictured left), who received dual degrees in African American Studies and Criminology & Criminal Justice urged her fellow graduates to "embrace fear, free falls, twists, turns and roller coasters of life."
The ceremony for the Department of Criminology and Criminal Justice was held on Thursday and featured remarks by department chair Dr. Gary LaFree, as well as a student address by Nicholas Bryan Koven.
Exercises for the Department of Economics were held in the Xfinity Center on Friday, and featured an address by David Schaeffer, ECON '75. Schaeffer, who completed a bachelor's degree in economics at merely 18 years old and founded one of the largest internet providers Cogent Communications. He also founded and operated six other major businesses in industries ranging from communications to commercial real estate. Read more about his impressive career here.
"Leave here today questioning everything and the world will be a better place. Never stop learning," Schaeffer told the graduates.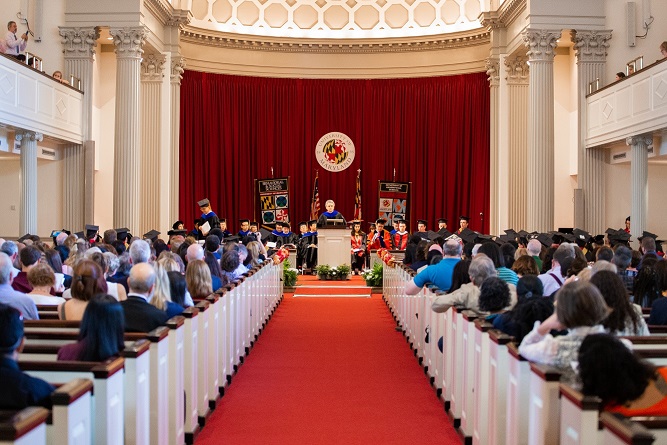 The Department of Geographical Sciences and the Environmental Science and Policy Program celebrated on Thursday in Memorial Chapel. Dr. Christopher Justice, chair of GEOG, offered welcoming remarks.
"While we live in uncertain times, you do not need to be uncertain of your own actions," Justice told the graduates.
Mahnoor Khan, a GIS graduate, was the undergraduate student speaker; Dr. Yuhan Rao served as the graduate student speaker.
The ceremony for the Department of Government and Politics was held Friday in Reckord Armory. Remarks were offered by Eric Luedtke, GVPT '02. Luedtke worked as a social studies teacher at Maryland middle schools before winning a spot in the Maryland House of Delegates, where he works to reform education among many other issues. Learn more about his work as a delegate here.
"While I can't promise to pay off the student loans for each member of this graduating class, I can promise to do my job and address the student debt crisis in Maryland and across our nation," Luedtke said.
Commencement for the Department of Hearing and Speech Sciences were held Thursday in Memorial Chapel.
Exercises for the Department of Psychology were held Thursday in Reckord Armory and featured remarks by Dr. Charlene Drew Jarvis, Ph.D. '71. Dr. Jarvis has worked as a neuropsychologist at the National Institute of Mental Health, served as a council member on the Council of the District of Columbia and acted as the president of Southeastern University. Read more about her many accomplishments here.
"Be seen through the screen of what is best for humanity. You are the power of one," Jarvis told the graduates. "Go forth and change the world!"
The Joint Program in Survey Methodology and the Department of Sociology celebrated together on Thursday in the Clarice Smith Performing Arts Center. Remarks were offered by Singleton McAllister, GVPT & AASD '75.
McAllister is an accomplished attorney with Husch Blackwell LLP. Prior to this position, she worked as senior counsel to the U.S. House of Representatives Committee on the Budget and as the General Counsel to the U.S. Agency for International Development under Bill Clinton where she worked to make social change. Read about how she incorporated sociology into her law career here.
"The degree you receive today is a social contract that calls on you to devote your energies and talents toward making a difference," McAllister told the graduates.
The entire university celebrated the Class of 2019 with an all-campus ceremony in the Xfinity Center on May 24 featuring an address by businessman, philanthropist and former Mayor of New York City Michael Bloomberg.