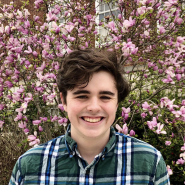 From working on Ruben Amaya's campaign for delegate to running for a committee seat in his own district, junior Government and Politics major Ian Miller is a local public servant on the rise 
Junior Government and Politics major Ian Miller really got interested in politics during a family friend's run for office in 2014, a campaign that inspired him to begin advocating for gun control and awareness around climate change in high school a few years later.
A few years after that, the Catonsville, Md. native decided to attend the University of Maryland and join CIVICUS, a living and learning program for freshman and sophomore students interested in community service, political engagement and leadership. 
Miller is grateful for the CIVICUS program, especially for being around other students with similar interests, and for the structure of the program allowing him to gain hands-on experience while meeting his educational requirements. One of the hands-on experiences he chose to pursue was serving on Ruben Amaya's campaign for a Baltimore County (specifically District 10) seat in Maryland's House of Delegates.  
"It was really great that you could get school credit for managing a campaign and for doing things in your community," Miller said about the program. "You have the option to do the thing that you're passionate about that you could then bring to class and discussion. And then to hear people talk about what they were passionate about as well, it was really great." 
On Amaya's campaign, Miller began acting as the Director of Policy and Communications in January 2022. He held that role until Amaya came in fourth place and ultimately lost the Democratic nomination in late July. Miller says that while Amaya's campaign was unsuccessful in this regard, it succeeded in other ways, chiefly by proving that members of Generation Z are valuable assets in campaigning and political activism. 
"Our campaign staff stretched from [the ages of] 15 to 22, and it was very much a student-powered production … we just had to learn to be better and lean into the things that our generation is stronger at," he said. "A lot of people on the campaign went back to school and are doing their own thing in their communities. And I think this is the biggest impact of Ruben's campaign, cultivating that political literacy in these young people to continue the work afterwards." 
Like his Amaya campaign coworkers, Miller is still active in local politics. He recently won a seat in Baltimore County's District 44B Democratic Central Committee—a campaign, endorsed by Progressive Maryland, that was focused on changing the Democratic party. Miller placed a particular emphasis on openly discussing corruption in the Democratic party, being vocal about his anti-capitalist views, challenging their exploitation of the youth, and redefining the priorities and values of his community in local politics. 
"They want you to be in their photos and they want to point at you and say 'Hey I like young people,' but at the end of the day we need to challenge these people and these institutions," Miller, the youngest member of the committee, said. "Actually challenging the system, you have to be doing that all the time." 
Miller says he wants to continue his efforts in cultivating political literacy in the youth, and teach them to challenge the status quo within their communities.
"Don't just go to Congress and deliver copies. Go do the organizing you care about in your community, and meet like-minded people who care about the things you care about," he said. "Go do the [local] work because you're going to make a difference, and you're going to meet some of the most incredible people along the way." 
This article was written by Sofia Appolonio, JOUR '26.