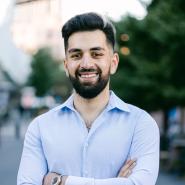 When Akash Magoon graduated from the University of Maryland with a B.S. in Computer Science in 2018, he left with an entrepreneurial drive and inspiration to build a company and make an impact. The technical skills  he developed from his undergraduate courses, coupled with the support he received from two people in the College of Behavioral and Social Sciences (BSOS), prepared him to soon-after launch Nayya, a platform that helps companies help their employees pick the best benefits selections during open enrollment.
Now, just a few short years later, Magoon and his brother Aman find themselves stepping away from that first company, currently valued at $515 million, and starting a second: Adonis, a platform that uses artificial intelligence to help healthcare providers more quickly know how much they'll be reimbursed by their patients' insurance companies, and how much their patients can expect to pay if all costs aren't covered. 
The idea for the company came from Magoon's own experience with the U.S. healthcare system. While playing in a New York City basketball league—which included fellow Terps—he fractured his shoulder and needed surgery to fix it. 
"I saw firsthand how difficult it was to get pre-approval from my insurance company for the surgery, and then after the fact when my doctor was trying to get reimbursed by the insurer and I was trying to figure out what my patient responsibility was, I got hit with a pretty massive medical bill; my insurer didn't cover the full amount," Magoon, who recently made Forbes' 30 under 30 list, recalled. "It's crazy to me that in most  transactions we go through as consumers, whether it's getting a car or buying something in the store, there's a level of transparency and we know what we're getting ourselves into; but in healthcare, that's never really existed, and that's the problem that we're looking to solve at our new company, Adonis."
Adonis, which has raised $5.6M in seed funding, officially launched earlier this fall. Already, Magoon has big dreams for how Adonis will transform healthcare as we know it. 
"We've had the pleasure of working with dozens of healthcare practice leaders around the country—leaders that run three locations, all the way up to 100 dermatology clinics—and they all say that they want to deliver a strong patient experience. They want to make sure that when patients come in, they leave knowing that they got the services they need, and that they can afford," Magoon explained. "But the reality is, the provider isn't actually able to give them that experience because they don't even know what they're going to get paid. Over time, as we work with hundreds of doctors around the country and dozens of insurance companies, our machine learning will learn better than any single human what practice leaders can expect to get reimbursed, and therefore we can pass that transparency down to the consumer." 
Another thing Magoon wants to pass along is the kind of mentorship he received from former Department of Geographical Sciences faculty member Paul Torrens—today a professor in New York University's Department of Computer Science and Engineering—and Paul Mandell, a 1995 Government and Politics alumnus, BSOS Board of Visitors (BOV) veteran, and current member of the University of Maryland College Park Foundation's Board of Trustees.
Magoon took one of Torrens' classes to fulfill a general education requirement during his freshman year and loved it so much, he asked Torrens if he could become a part of his research lab. Torrens agreed, and even helped Magoon put together a project that he then presented to the BSOS BOV on which Mandell was serving. 
"Dr. Torrens' class was where my eyes really opened up to the cool things that are happening on campus, and Dr. Torrens is the first one that allowed me, a freshman who had no track record [of research experience], to come in and hack things together in his lab," Magoon said. "He was selfless with his time and his mentorship, and so was Paul. Paul was one of the guys that really shaped the way that I think about taking ideas from inception to reality, and as a freshman, seeing this guy that is on the Board of Visitors, is involved on campus, and who is a multi-time founder and entrepreneur be willing to meet up for coffee, talk through various student-related things and ideas I was testing was very inspiring."
Today, Magoon himself is a BSOS BOV member, a recipient of the University of Maryland Alumni Association's Rising Terp Award, and a member of the Robert H. Smith School of Business' Advisory Council. In early 2022 Magoon was also a judge of the Pitch Dingman Competition, an event that gives student entrepreneurs the opportunity to compete for seed funding.
"Seeing the instrumental role the university played in launching my career, it feels natural for me to pass that back to the folks whose shoes I was in just a couple of years ago," Magoon said.