Many parents and teachers evaluate how safe a child's walk to school is by looking at sidewalks, streets and crosswalks from the ground level. Dr. Micah Brachman, a lecturer in UMD's Center for Geospatial Information Science, takes a broader view.
Recently, Dr. Brachman and co-author Dr. Richard L. Church of the University of California, Santa Barbara published an article in Socio-Economic Planning Sciences about their work using geospatial information science methods—such as evaluating satellite imagery and creating transportation models—to design safer routes for walking to school.
The researchers' Safe Routes to School Infrastructure Improvement Model is designed to help decision makers prioritize infrastructure improvement projects that encourage using active transportation modes—such as walking and bicycling—by increasing safety. This model can be used to generate a map showing where new transportation infrastructure should be built so that pedestrians can get to destinations quickly while minimizing the risk of being struck by a vehicle traveling at high speed.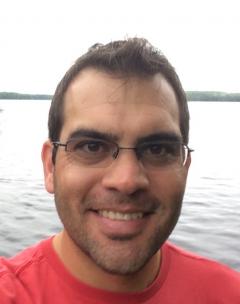 To date, the model has been applied to the pedestrian network surrounding a school in Santa Barbara, Calif., to demonstrate how it can be used to recommend specific sidewalk and crosswalk improvements while accounting for funding constraints.
At the moment, the Safe Routes to School Infrastructure Improvement Model is in a proof-of-concept stage; ultimately, Dr. Brachman seeks to serve countless communities with finished tools.
"I am hoping to expand on this research by developing an online mapping tool that will allow any school or school district to determine which pedestrian safety improvements will maximize the return on their investment," Dr. Brachman said.
Close to campus, Dr. Brachman is currently working with Montgomery County to develop a similar geospatial modeling approach for determining what infrastructure should be built for a network of low-stress bike routes. 
"Using active transportation can help improve human health outcomes and reduce greenhouse gas emissions. It is imperative that we find practical ways to make walking and biking more practical, safe and enjoyable for everyone," Dr. Brachman said. 
Exploring the Possibilities of the Purple Line
Dr. Brachman also is a co-investigator on the Purple Line Outcomes on Transportation (PLOT) Study led by Dr. Jennifer Roberts in the School of Public Health. This study examines the impact of the Purple Line Light Rail on the health of residents in Prince George's County.
One of the aims of this study is to measure the impact of this new mass transit infrastructure on active transportation modes such as walking and bicycling. 
"Geospatial modeling can help us understand how different characteristics of the environment can impact the safety of walking and bicycling, and can help us think through cost-effective safety improvements to pedestrian and bicycling networks," Dr. Brachman said.      
Dr. Roberts is also leading the Physical Environment and Active Transportation (PEAT) Study investigating the health impacts of the Silver Line on youth in Northern Virginia.
"One interesting initial finding from the PEAT study is that in order to promote the health benefits of active transportation, public health professionals must account for the discomforts and dangers that are currently associated with walking and bicycling in the greater Washington, D.C. region," Dr. Brachman said.
He cited these discomforts and dangers as incomplete or damaged sidewalks, exposure to exhaust and traffic noise, and dangerous proximity to vehicles traveling at speeds that can cause serious injuries or fatalities.
Initial findings for both the PLOT and the PEAT studies will be released in 2019.