Sasha-Loriene McClain, ECON '12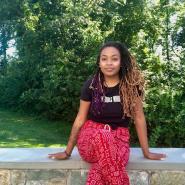 Alum's Organization Brings Together Women Artists of Color
Sasha-Loriene McClain '12 likes to joke that she was the world's briefest studio art major. Thirty-six hours after she'd rearranged her four-year plan at the University of Maryland to study art instead of economics, her parents told her if she wanted to follow that route, she could do it at community college. Immigrants who'd sought refuge from the Liberian civil war, they saw economics as the better path to a secure future.
McClain finished the degree her parents wanted for her, but she's since found her way back to her first love as a full-time artist and founder of Black Girls Who Paint (BGWP), a nonprofit organization that offers women of color scholarships, stipends for materials, connections to gallery owners and funding sources, and a network of other artists who understand the particular difficulties facing Black women in the field.
"I just really wanted to create the community that I always wanted," said McClain.
McClain began sketching out the idea for BGWP in 2017, just after she received a rejection letter from organizers of an exhibition on femininity–for which her work featuring depictions of empowered women seemed to be a natural fit. When McClain saw the names of the 35 chosen artists, she realized only one was Black.
"The D.C. area is way too diverse to see only white women or white men (represented in art galleries)," said McClain.
Always an "artsy kid," McClain, who grew up in Prince George's County, loved painting and drawing and going to art museums in Washington, D.C., but encountered very few examples of Black women pursuing art as a career. "I saw Black doctors, I saw Black accountants, Black lawyers," she said. "I saw Blackness in pretty much every avenue except the arts."
After earning a graduate degree in public administration from American University, McClain worked for a few years in education policy. Frustrated by the bureaucracy and slow pace, she quit, moved back in with her parents and made art her full-time focus. Originally figurative and primarily portraits, her work has evolved into a colorful blur of abstract expressionism, and has been featured in Architectural Digest.
With Black Girls Who Paint, McClain has created a network of some 120 members nationwide and from as far as Norway. The organization supports artists materially, with funds to buy the supplies they need and scholarships for visual art programs–McClain writes grant proposals and cultivates relationships with new financial backers.
The personal connections fostered through BGWP are as vital as the monetary support, said members. "You have a team of other people of all ages that are walking your same walk, that understand how your voice can kind of get lost," said Michelle Izquierdo '10, a Maryland-based artist and BGWP member. Izquierdo has gone to meet-ups with other members where everyone paints and chats, offering critiques and encouragement.
"It just gives you a better sense of community with your own community," said Izquierdo.
This article by Sala Levin '10 originally appeared in Maryland Today.