Courtney Kennedy, JPSM M.S. '07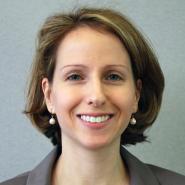 Every election season—the 2022 midterm being no exception—candidate-related public opinion poll results dominate news headlines. Reactions to those results have been particularly heated in recent years, however, as the polling errors that led 2016 voters to believe Hilary Clinton would be elected President sparked shock, then subsequent distrust in polling in and of itself.
According to Courtney Kennedy, who received her master's from the University of Maryland's Joint Program in Survey Methodology (JPSM) in 2007, this election season showed signs of positive progress.
"The public's distrust is pretty well-earned in that polls did struggle in 2016 and 2020, but things are turning around in the polling industry. We are all really encouraged by the accuracy that we saw in the recent midterms," said Kennedy, who today works as the Vice President of Methods and Innovation at Pew Research Center, a nonpartisan fact tank that informs the public about the issues, attitudes and trends shaping the world.
Still, Kennedy cautioned, progress does not mean perfection.
"One huge lesson coming out of this recent midterm election is that you want to take a look at who sponsored a poll; a lot of the "red wave" narrative was a result of a lot of the polling done late in the game by Republican pollsters and pollsters funded by Republican super PACs," she said. "If you see a poll that is sponsored by either side, you don't want to heed those polls too much because those polls tend to be released selectively. The major news outlets actually have a good track record; all of your name brand, familiar news outlets—ABC, FOX News, CNN, The Wall Street Journal, etc. all have good, trustworthy polling operations."
Even within Pew Research Center—where Kennedy and her team help the center's politics, religion, science, race and ethnicity, technology and other topical teams craft survey questions, determine how the survey will be delivered, and to whom—Kennedy says a lot about Pew's own survey approach has changed since her initial arrival. Where before the "industry standard" poll might have tried to reach 1,000 respondents, today, Pew typically aims for somewhere between 5,000-10,000 respondents.
"There's a strong push in survey research toward better representing different parts of the population by increasing sample sizes and changing sample design so that we can do much better, richer reporting on Black adults, Asian Americans and Latino Americans so we can publish reliable insights from those different groups, and do deep dives within those groups," explained Kennedy, who discussed this very shift at greater length during her September 2022 SoDa Center Workshop presentation. "There are interesting and important variations within those groups, and to study that we need larger samples."
When Kennedy joined Pew as a Director of Survey Research in 2015, that wasn't her first time with the organization. When Kennedy had moved to the Washington, D.C. area just before starting her master's program, she began working with Pew as an intern, and was able to continue on as a research assistant due to UMD JPSM's flexible schedule.
"During the day I would take the Metro from where I was living in Hyattsville, work at Pew, then come back to campus in the evening for my classes. The nice thing about the Maryland program is that it's really geared for that; many of the classes are offered at night because they realize a lot of their students have full-time jobs at the U.S. Census Bureau, Bureau of Labor Statistics or a place like Pew," said Kennedy. "It's rare for people in public opinion and the polling field to have a strong background in survey methodology, but that was something that UMD helped me with because with it situated at the doorstep of D.C., I was able to work for a tremendous polling organization and get the academic training from the university in the evening. I was able to pair these two passions that I have, public opinion polling and survey methodology, and I think UMD is unique in that it helps facilitate physically the possibility of those connections."
What also stands out to Kennedy about UMD JPSM is its world class faculty, one of whom shared an experience with Kennedy she'll always remember.
"I'll never forget that I was driving a group of us to the University of Michigan, Ann Arbor to visit students in JPSM there, and Robert Groves, one of the Maryland JPSM founders, was in the passenger seat, and I got us lost," laughed Kennedy. "He was very sweet about it, and then we stopped at a Pizza Hut in Breezewood, Pennsylvania."
While highly recommending that other students consider joining the survey methodology field due to its great job market outlook—"there is a never-ending demand for good data and information"—Kennedy also wants students to realize that there is a lot of fun to be had, too.
"A virtue of the survey field is that it's multidisciplinary, so we pull people from statistics, psychology, sociology and more," she said. "People from all kinds of backgrounds wind up in this field and they all tend to be really nice colleagues, because at the end of the day, everyone wants to produce good data that's going to improve the world."